Romaji and translation of the lyrics for
D.L.N
from the album
NIL
by the GazettE.
Lyrics originally written/sung in English are in
italics
in the translation. In this song, words that are sung but are not printed in the booklet are in [ ]s.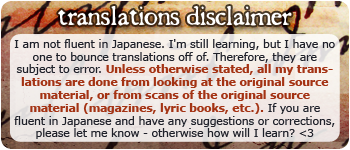 D.L.N1
hajimekara [hajimekara] wakatteta2 dakara kanashiku wa nai
sukoshi zutsu [sukoshi zutsu] sukoshi zutsu kazu wo kazoeru mitai ne

kusaki no kareru iro ga boyake kisetsu no owari ga wakaranai

ashiato wo [ashiato wo] nazoru hi wa ashiato wo [ashiato wo] kiku hi wo yondeiru wa
nozomi mo shinai watashi ni ashita wa kaerarenai mono

kusaki ga kareru oto wo tadori kisetsu no owari no kanjiru
hana ga irodzuki sakihokoru koro watashi ni wa nani ga nokoru no

tsuki ga kaaten wo tojiru demo taiyou ga watashi wa terasu no
hajimekara wakatteta dakara kanashiku wa nai

megasame yoru ga owaranaku temo soko ni kagayaku hoshi ga nakutemo
machi wo irodoru akaritachi ga subete kietemo...
mamoru beki hito no yorokobu kao wo aishita hito no saigo mo
jyuubun na hodo mite koretakara mou ii no [mou ii no]
Song of the sheep in dark long night
D.L.N1
From the beginning [from the beginning] I understood
2
, so I'm not sad
Little by little [little by little] Little by little It's almost like counting numbers
The colors of the withered plants fade; Without my realizing, the season has come to an end
The day I followed your footprints [your footprints], that day I could hear your footsteps [your footsteps], I called out to you
I don't suppose I hold any hope that tomorrow will be unchanged
I follow the sound of the withering plants, sensing the season is at an end
The time the colorful flowers were in bloom is something that still exists only within me
Curtains are drawn over the moon, but the sun still shines on me
From the beginning, I understood, so I'm not sad
Even if you awaken before the night has come to an end, and there are no stars shining
And the lights that painted the streets have gone out
You should be glad [when you see] the face of the person you love, and should protect them until the very end
Just getting to see them should be more than enough It's enough [It's enough]
Song of the sheep in dark long night
----------------------------------------
-------------------
Translator's Note:
1 "D.L.N" stands for
dark long night
, part of the chorus the children sing in the background throughout the song
2 Ruki uses the kanji 理解 (
rikai
- to comprehend) in the printed lyrics, but sings 解 (
waka
- to understand/realize) throughout. My personal opinion is that
rikai
seems to be a more complete or deeper understanding of something, including the reasons behind it, rather than just understanding it on the surface. That's just my thought though...
feeling:
blah
listening: the GazettE - D.L.N